A basement can be a fantastic area for you and your family. It's a space you can convert into a home theater, play room or even an area for organized storage. However, when a basement gets too cluttered, it might be time to consider a complete cleanout.
How Much Does a Basement Cleanout Cost?
On average, a basement cleanout can cost about $356. However, it really comes down to how much you need to toss.
The most convenient option for cleaning out a home is to rent a roll off dumpster. Depending on the size of your basement and the amount of clutter that needs to be tossed, a 10 or 20 yard container is the best fit for cleaning out a basement. On average, these dumpster prices range from $366-$432.
If you want someone to come to your home and haul the items away, expect to pay $150-$350 as a base price for a junk hauling service, but keep in mind that fees may be applied for certain common items. Also, you'll need to be present while the junk company is working in order to coordinate efforts, and you will typically be charged by the space that your items take up in the truck, so you won't have a solid price until the job is done.
Additionally, if you have items that you want to keep, but don't have the space in your house to store while you clean your basement, you'll need to rent a storage unit, which can range from $60-$225 per month depending on the unit size and location.
If you can wait for your city's bulk waste collection days, are willing to make multiple trips to the landfill yourself or have available space to store things at home, you can spend absolutely no money on a cleanout.
Declutter and Clean Out Your Basement in 5 Steps
Whether you're looking for a bit more organization or you're forced to completely clean out your basement due to an emergency like flooding, it is a task that can appear overwhelming if you don't have a plan. Our guide, with expert tips and tricks from Beth Dargis of My Simpler Life, will help you through the toughest parts of cleaning a cluttered and messy basement and give you the confidence to get the job done.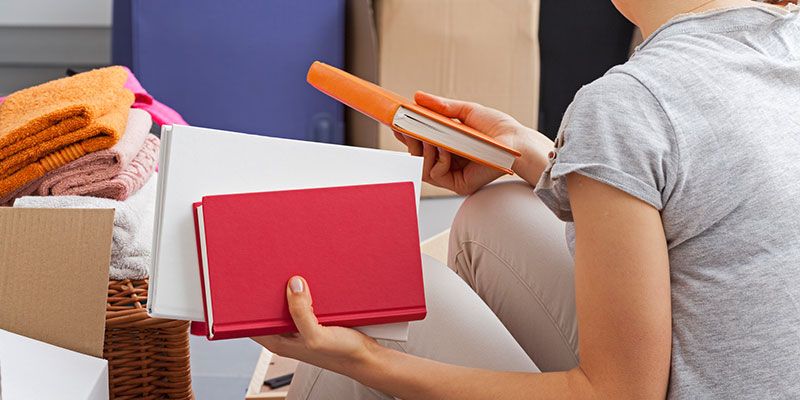 Step 1: Take Inventory of Your Basement
As you're starting your basement purge, take the opportunity to tag the items you aren't tossing. This step is crucial to your success, so it's one that you need to give proper attention to. Don't feel like you need to set a timetable on this step. Work at your own pace and take breaks as needed if you get frustrated or emotional with sentimental items.
Gather colored stickers or post-it notes to tag your items. Pick four colors and assign them a category: trash, donate, sell and keep. As you go through your belongings, put a sticker on each item you aren't already throwing out so that, when it comes time to organize, the process will go faster.
If you're having trouble deciding what to do with something, ask yourself these questions:
When was the last time I used this? If you can't remember using the item in the past year, it might be time to get rid of it.
Was I surprised to find this here? When you're shocked to find something in a location, it may not have been as important as you believed.
What are my reasons for holding on to this? If your reasons for keeping an item aren't good, it's time to toss it.
Have I already replaced this item? If you've upgraded or replaced the item, get rid of it.
Can someone else make use of this? Maybe the item is something you think someone else needs, but you have not use for. Consider donating the item or throw it out if there are no takers.
Do I really have the space for it? If you can't think of an obvious spot for it, maybe you don't really need the item.
Keep count as you tag your items. This will help you decide on what your options are when it comes time to clear out the basement. If you have a lot of things marked as trash and they range from stacks of magazines to large couches, consider renting a roll off dumpster for a quick way to toss your junk. If you noticed you tagged a lot of bulky items to keep and believe they will get in the way as you work, consider renting a storage unit to put these items until you have the space to bring them back into your basement.
"Decide how much of your present space you are willing to give to the past. 3 boxes? 5 boxes? Half the basement? Give yourself a limit."
Step 2: Purge Your Basement of Trash
The start to this step is quite simple: if you know something needs to be thrown out, throw it out. Broken chair that you've been meaning to repair for three years? Toss it. Box of knick-knacks that no longer fit with your taste in décor? Get rid of it.
"If things weren't stored properly, they may not even be useful now. You didn't care enough about the object to keep it free from dust. Do you really still need it in your home?"
Beth Dargis | Simplicity Educator, My Simpler Life
You've already started this process by tagging things as trash, so the bulk of this step is taking those things out of your basement for disposal. If you rent a dumpster, you can have it delivered right to your driveway so you can throw trash in it as you sort.Find Dumpster Services In Your AreaSearch
It is also a good time to look at any items you may have been on the fence about. Once you've cleared out everything marked as trash, take a moment to look back over items you were unsure about and reconsider. However, don't make these decisions because someone says you have to.
"No one — not decluttering gurus, best friends or anyone else — can tell you what to get rid of and what is important to keep," Dargis said. "Only you know the stories behind your possessions and how they affect you."
Step 3: Sort Your Basement in Sections
Now that the trash is out of the way and you have a bit more space to work with, it's time to start sorting what remains in your basement. The easiest way to handle this step is to sort into three piles that correspond with your stickers: keep, donate and sell.
In an ideal situation, you could just go through and sort everything in one sitting. In reality, that is very hard to do. So, as you work on sorting through your remaining stuff, consider these tips for decluttering a messy basement:
Start small. If you're feeling overwhelmed, break the project into smaller sections. Take some painters tape, twine or another divider and section off the basement. If the space is very cluttered, consider dividing it into 5- by-5-foot sections — roughly the size of a walk-in closet. For less cluttered areas, as big as 10- by-10-foot works well. Once areas are marked, sort them one at a time.
Take breaks. There's no reason to rush through this process. It can be emotionally, physically and mentally exhausting. If you need some time to recharge, take it.
Ask for help. While the final decision on what to do with every item is ultimately yours, if you've already tagged the stuff, it's easy for friends or family to lend a helping hand in sorting without things being misplaced.
Step 4: Take Items to Your Storage Unit or Donation Location
You've sorted it all out, but the items are still in your basement. If you need to completely empty out the space in order to finish your basement or complete another project, it's time to take the items you want to keep into another area of your home or to a storage unit.
"If you have room, you can bring the stuff to the garage," Dargis said. "Or you can use a storage unit. Moving everything really lets you hone in on what you want to keep. Is it worth moving?"
Once your "to keep" items are out of the way, load up a vehicle with anything you want to donate and drop them off.
Pro Tip: It pays off to call ahead for donation drop-offs. Sometimes an organization has too much of an item so they are not accepting it. Also, some charitable organizations will pick up your items if you have enough.
If you are limited on space or time, consider asking a friend to make trips to the donation center or storage unit as you clean.
Step 5: Set Your Sale Timeline
If all has gone according to plan, you should only have one pile left in your basement: sell.
While this seems like the most straightforward and simple step, it is the one that can cause the most issues. Not only do you need to decide where you want to sell your items, but you need to set a sell by date, otherwise some items may just continue to clutter your basement, albeit in a sorted pile.
There are plenty of options to sell your items:
Craigslist
eBay
Letgo
OfferUp
Facebook Marketplace
Local consignment stores
Keep in mind, it would be a rare situation if all of your items sold. While you can sell quite a bit if you are willing to set the price right, you'll have leftovers that you need to still get rid of. Once the day you decided on comes, delist anything you still have up for sale and either donate the items or toss them.
Make the Most of Your Freshly-Cleaned Out Basement
The hard part is done. You've cleared out all of your belongings from the basement, making some tough decisions along the way. Now, a world of possibilities awaits. However, a clean basement is not a one-and-done job. If you continue to follow this sorting process throughout the years, you'll stay ahead of the clutter and keep your basement ready for whenever you need it.